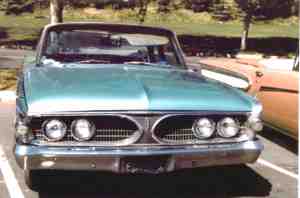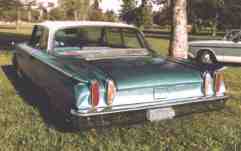 ---
Andrea 'Enthal's Edsel
OU11W702084
(known to the state of California as EDSEL X)
This is a 1960 Edsel, the 2084th one manufactured out of 2846. It came off the Ford Motor Company assembly line in Louisville Kentucky on October 14, 1959--the day before the 1960 Edsel was publically introduced for sale. It was then shipped to Alexander Motors in Trenton, New Jersey.
Manufacture of the Edsel (which was a line of car above Mercury but below Lincoln) was discontinued on November 19, 1959, only one month and four days after the 1960 model's introduction. The 1960 Edsel is an oddity in that it was never on the market in its model year. All 1960 Edsels are products of late 1959.
This particular car has a rare Deluxe Trim Package (the seat fabric pattern and matching door panels), a Mile-O-Matic automatic transmission and a 292 engine under its hood. The paint color is factory original. This car did not originally have exterior rear view mirrors and continues to do without them. They were not required by New Jersey law.
When Ford announced the Edsel's discontiuation, my father, then 35 years old, decided to check into the situation with the leftover cars. His five year old daughter had just started kindergarten and his wife's 30th birthday was coming up that week. He decided to give her a new car for her birthday, now that she had to drive their child to school, causing the family to need two cars for the first time.
Alexander Motors was more than eager to be rid of the two Edsels they owned (one, a sea foam green 1959, and this, their only 1960). They were so eager that rather than have him take a test drive in the car, they allowed him to take it home for the weekend--no deposit, just on his honor--to see how he liked it.
On November 25, 1959, he returned to Alexander and paid for this vehicle. That, his wife's actual birthday, was only six days after the Edsel's commercial demise.
In March 1970, the child who had been in kindergarten when this car was new, turned 16. Like all 16 year olds, she wanted a car for her birthday, but not any car. It had to be this one. So, on March 19, 1970, this car became a birthday present a second time. She is still the owner of this car.